Thai Airways Flight 679, Hiding Your Brand – Never a Good Idea Period!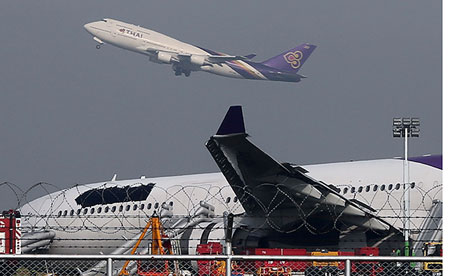 TG 679, New people learning old lessons, enough! We do not paint over the logos of aircraft after an accident.  The can of paint is no longer part of the emergency response plan for airlines.  People know that airplanes are built and operated by humans, and as such will at times not function as planned.  Sadly accidents happen. Fortunately with the great improvements in safety they happen much less frequently.
Knowing there are accidents does not deter people from flying, even on a carrier that has just suffered an accident.  Thai Airways is a good airline, providing a great service in Asia. But it sends the wrong message to the most important audience to hide your brand.  The people directly affected during this accident are the passengers and crew aboard the aircraft.  They are the audience.  They are who matter.
The message we send to them by covering the brand is one of distancing corporate responsibility for the care of those directly affected. It sends a message that this is not a big deal, and we deal with it by pretending it did not happen.  Regardless of why the landing gear collapsed or who is ultimately responsible for the cause is not immediate concern of those passengers and crew.  Nor should it be the immediate concern of the airline.  The immediate concern of the airline is continued safe operation of other flights and assisting the people who were on board the aircraft and their families.
Not rocket science, and not something new.  Crisis communications is not just about public relations. It is understanding and addressing the most important elements of a crisis – which are human needs and emotions.