CEO, Airline Comms, and Insurer, how would you answer this headline?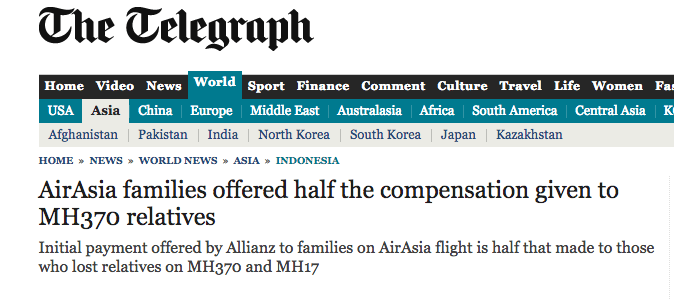 AirAsia families offered half the compensation given to MH370 relatives | via @Telegraph
Higher initial payments aren't the answer. The answer is consistent incident management, treating families equally, and treating them well from the start. The answer is the insurers, solicitors, brokers, and airlines working together with the airline taking the lead. In the Telegraph article, the plaintiff's firm asks why families of those lost on Malaysia MH370 and MH17 have been offered much higher initial payments than families of those lost on AirAsia Flight QZ8501. That is a perfectly logical and reasonable question, one often asked by families also.
Plaintiffs suggest that the difference is because Malaysia is a traditional flag carrier and AirAsia is a low cost carrier. The lead solicitor calls on AirAsia CEO Tony Fernandez to step in saying, "If he really cares about the AirAsia 8501 families, then he should intervene without delay and offer each family USD 50,000, I really hope for the sake of AirAsia families that low cost does not mean low compensation."
It is not because one is a low cost carrier and one is not. Best practice is an initial payment of USD $25,000. But this must be provided as part of a comprehensive crisis management response and provided in conjunction with support.
When the response to a loss is so bad the almost inevitable step is to offer very high initial payments. Increasing payments does not help. It is not what families want. It does not make up for the damage done by a bad response. This happens when the airline, insurers, and solicitors do not work together. It is the airline's name and reputation. They are the ones feeling the direct effects because they have to face the families and the media. Rarely do insurers deploy to the incident scene or family assistance centers. Consider the following:
Three incidents – very different causes, but very similar consequences. The direct consequences include deceased people and missing people who are presumed deceased, all with families and other legal dependents who have tragically lost people they cared about and loved. They also have very real financial losses.
Three very different initial responses, ranging from poor to good.
Two different airlines.
One lead insurer.
Two very different insurers' law firms and solicitors.
None of this is new. History and far too many accidents have shown success in taking care of the families. Reaching fair settlements is done when the following occurs, regardless what type of airline it is:
Start with the thought that families don't look at airplane incidents as opportunities to make money, which is both insulting and grossly inaccurate. Secondly, families understand that accidents and incidents happen and because of that families expect a professional and well-managed response to occur.
Have a good response plan. Establish a family assistance center and immediate call center for families. This also means all parties working together before an incident, not at a drill testing the initial four hours of a response, but testing the ability to manage the first 21 days.
Within 24 or 48 hours, the airline CEO should apologize to the families, at the family assistance center. Airline communication should be direct, accurate and truthful about what the airline knows and it goes to families first, the media and other stakeholders second. It is also compassionate.
Within seven days, the airline should give each and every family a letter of sympathy, signed by the CEO. The letter does not mention compensation, but is simply a sincere letter of condolence and sympathy.
Within seven to 14 days, the airline should offer in writing to families, an initial payment of USD $25,000. These funds are simply to help the family's transition through the next several months. Inline with this all travel and expenses of families getting to and staying at the family assistance center should be covered and families should never see a bill, charge or invoice for any of those. The same goes for repatriations and funeral services; those costs should again be covered.
Within 14, days explain to families the settlement process. Too many insurers such words cause panic attacks, but be a aware that families' talk to each other, plaintiffs firms share information on the web. The process of determining who is a dependent and the financial loss suffered is fairly straightforward and not very subjective. What is complicated is when there is anger from the response, a lack of clear information, mistrust and no sense of appropriate sympathy or compassion.
If the airline has done these things, and been straightforward with the families, then you will find that families accept the initial funds, which are often needed and reach fair and final settlements without the bitterness or acrimony.